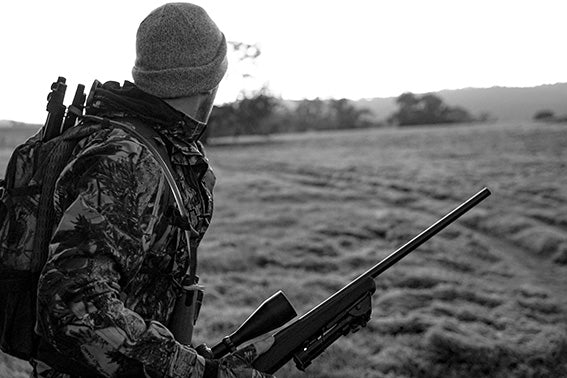 Welcome to NEVERDRY
NEVERDRY is the epitome of high-quality lubricants and maintenance products for firearms and general machinery. We are dedicated to providing our customers with the best products to keep their equipment running smoothly and efficiently. Our ultra-refined oil lubricants are designed to reduce friction and wear, ensuring optimal performance and longevity.
With a focus on quality and customer satisfaction, NEVERDRY is the trusted choice for gun enthusiasts and craftsman professionals alike. Explore our range of products today and experience the difference that NEVERDRY can make for your equipment.
NEVERDRY All-Purpose Lubricant
Regular price
Sale price
$14.99 USD
Unit price
per
Sale
Sold out
This versatile ultra-refined oil is designed to excel in a wide range of applications, making it an essential addition to your arsenal of maintenance products. From firearms and machinery to household appliances, locks, hinges, and automotive maintenance, the NEVERDRY All-Purpose Lubricant delivers unmatched performance and protection.
Share
View full details
The Ultimate Gun Cleaning Bundle
The NEVERDRY Gun Cleaning Kit equips you with everything needed for a deep and essential firearm cleaning. Our products work harmoniously to deliver unparalleled results, ensuring smooth and reliable firearm operation.
NEVERDRY Gun Cleaning Kit
Regular price
Sale price
$34.99 USD
Unit price
per
Sale
Sold out
Get our top 3 products and more in 1 convenient portable kit!
Share
View full details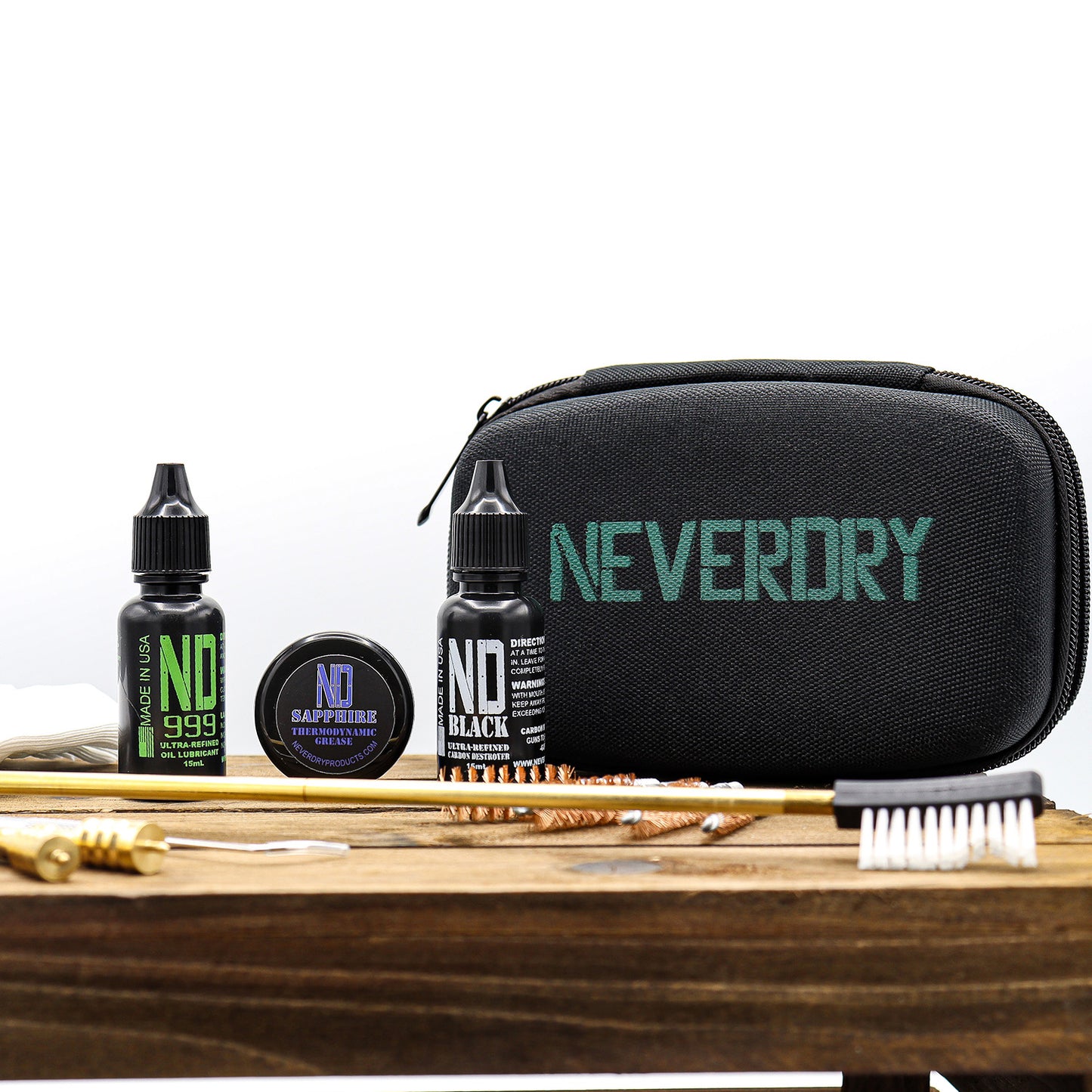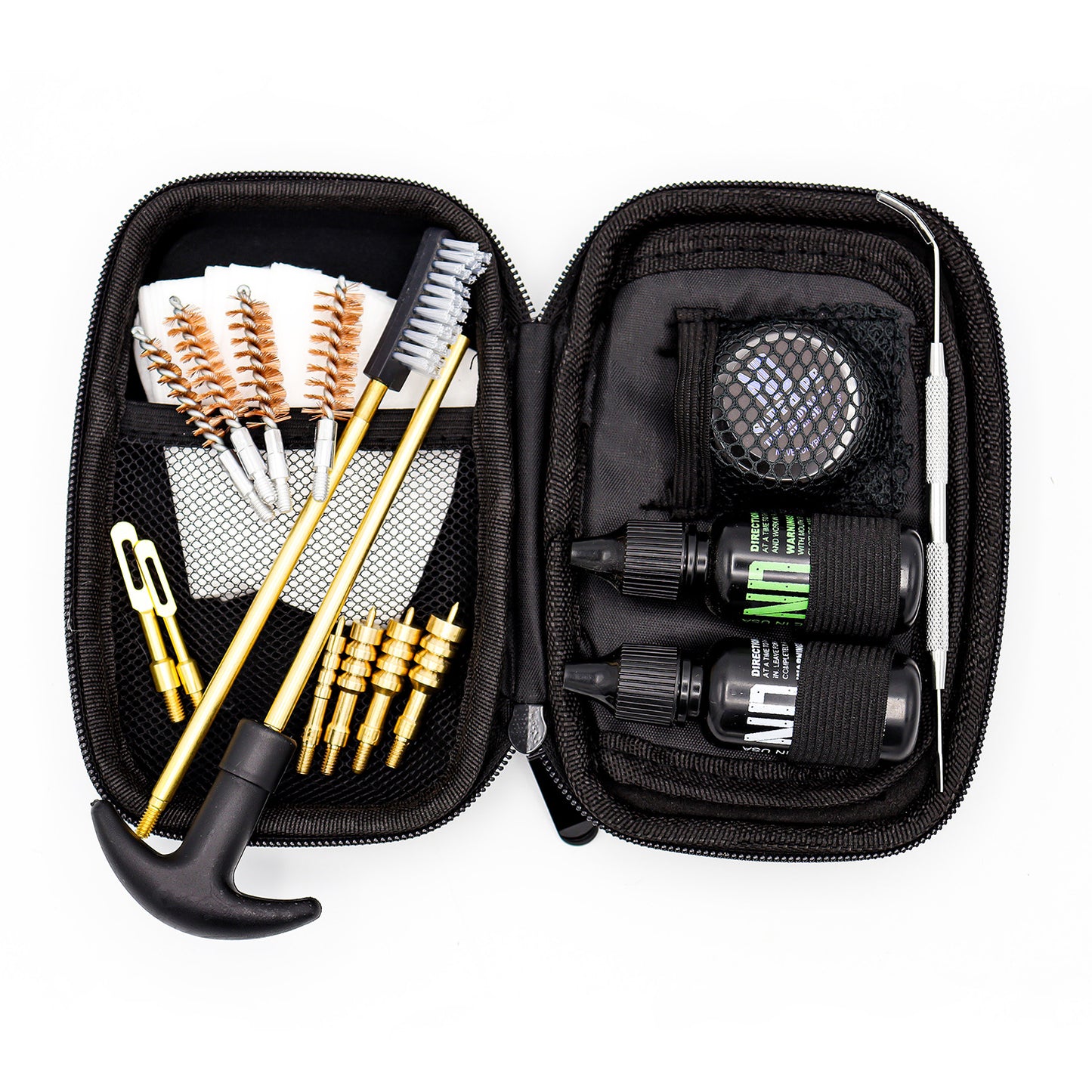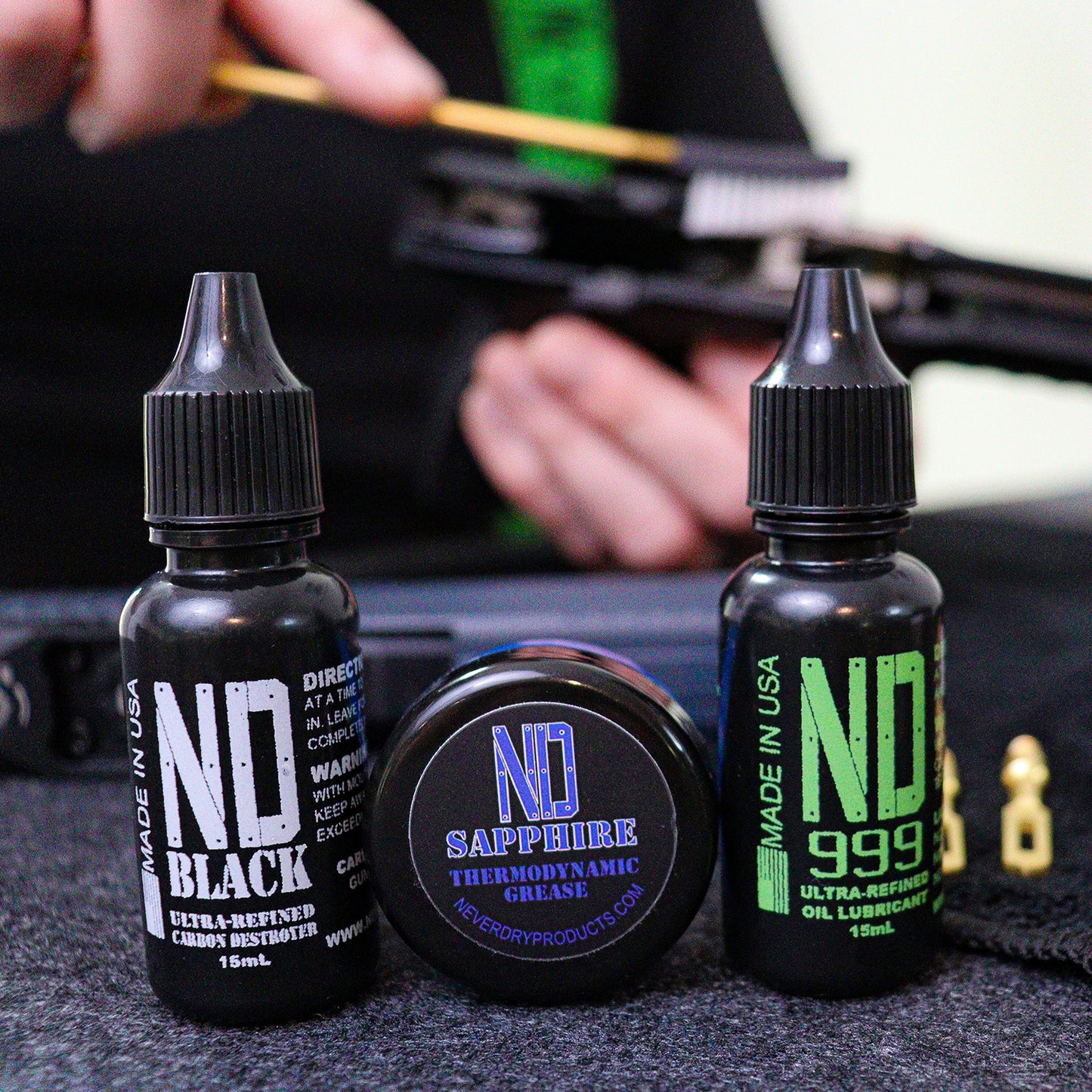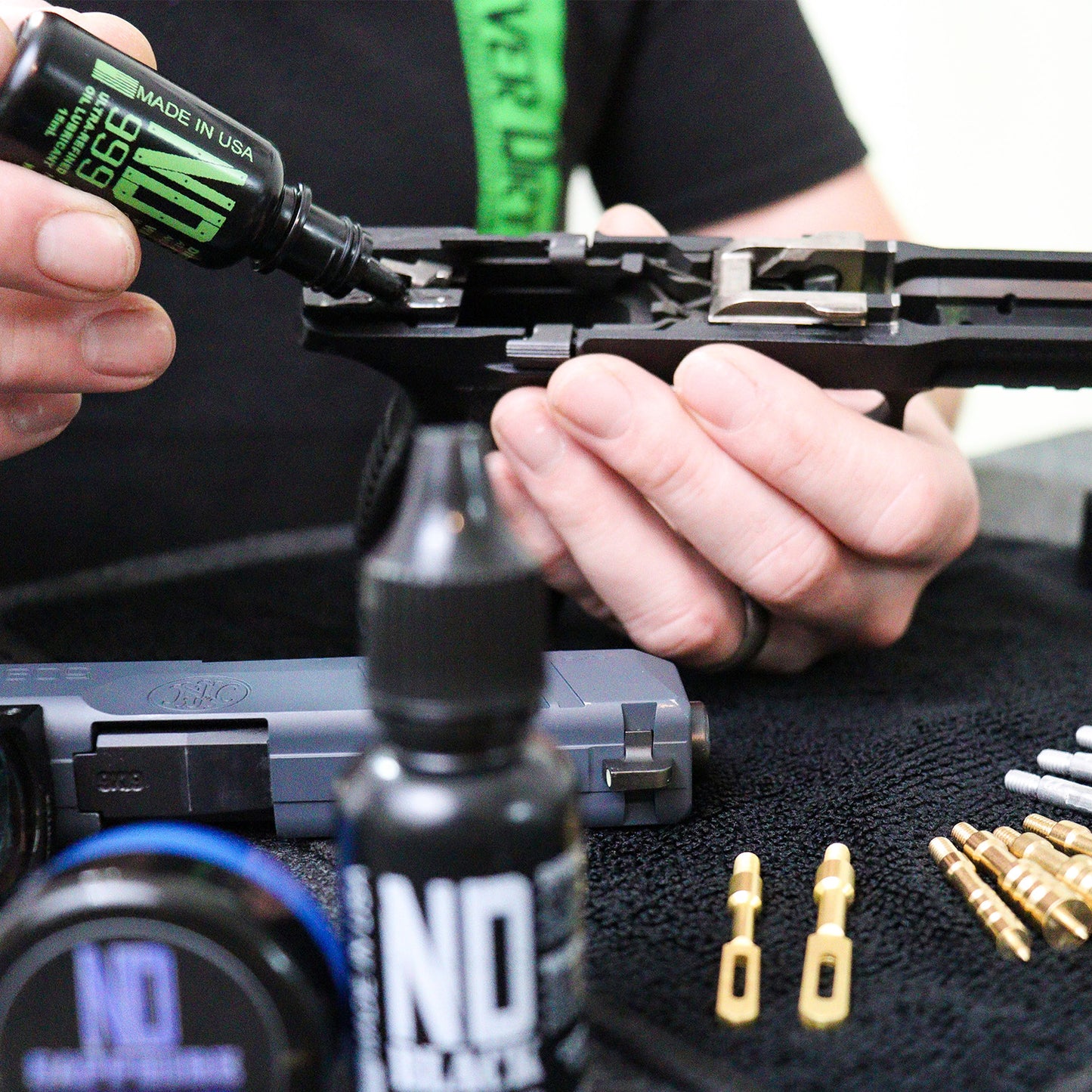 More Details
The ND999 Ultra-Refined Oil Lubricant protects against wear and corrosion, while the ND Sapphire Thermodynamic Grease provides unmatched lubrication and anti-seize protection. Meanwhile, the ND Black Carbon Destroyer Cleaner eliminates carbon fouling, restoring precision and accuracy. With our specialized cleaning tools and replaceable rod tips, every corner of your firearm receives meticulous attention.
Whether you're a seasoned gun owner or a new enthusiast, this kit will become your go-to for maintaining firearms in top condition. Take pride in the efficiency and precision of your firearm cleaning routine with the NEVERDRY Ultimate Gun Cleaning Kit. Trust NEVERDRY to keep your firearms performing at their peak and always ready for action.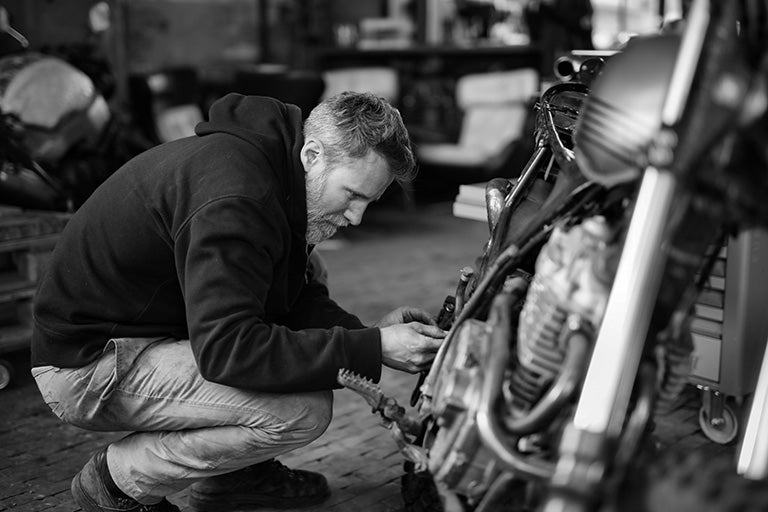 NEVERDRY: A Jack of All Trades
While our oil lubricants and carbon destroying cleaners are specifically formulated for gun and machinery maintenance, they have a range of other practical uses as well. Our ultra-refined oil lubricants can also be used to lubricate locks, hinges, and other metal parts around the house, while our thermodynamic grease can be applied to bearings, gears, and other moving parts in automotive, marine, and industrial applications. Additionally, our carbon destroying cleaner can be used to clean ovens, grills, and other kitchen appliances.
Quality And Innovation

Made in the USA with quality and care, NEVERDRY's ND Series Cleaning and Maintenance products are ultra-refined in a process that removes many impurities commonly found in other gun oils, lubricants, cleaners, etc.

The American Standard

At NEVERDRY, we take pride in being a wholly American-owned and operated business. We believe in supporting the American economy by providing job opportunities solely within the United States. From our facilities to our business processes, everything is done domestically.

Unmatched Results

Simply put, your guns won't jam and your equipment will last longer. If you are utilizing our various ND Series products to clean and maintain your firearms and/or machinery regularly and properly you are sure to have a smoother, more efficient operating experience.
NeverDry Product Testimonials
See what our customers are saying!
Good Gun Oil: Michael H

Picked up a bottle of this at the Grand Rapids gun show. Works great on my edc glock 19 smooth to rack the slide, doesnt run off when firing and it seems to accumulate far less lint excellent oil for sure.

All-Purpose Lubricant: Jarod H

I've been using ND999 for awhile on everything from my guns to squeaky door hinges. It's the best lubricant I have ever had my hands on. [NEVERDRY] is an amazing American owned company and the owner is a stand up and straight forward guy

Solid Gun Oil: Doris B

Really solid gun oil. I wanted something more premium for my custom FN 509 to keep it running smooth. This really fits the bill!

Environmentally Friendly
At NEVERDRY, we are committed to providing our customers with the highest quality gun oil lubricants and equipment cleaning products, while also protecting the environment.
That's why we use sustainable production techniques to ensure that our products are environmentally friendly and have a minimal impact on our planet. ND999 is free of any VOCs, so you can use it with peace of mind, knowing that you're not exposing yourself or the environment to harmful chemicals.
With NEVERDRY, you can trust that you're getting products that are effective, safe, and sustainable.